Littleton Farmer's Market – Tuesday Tour Guide
Farmer's markets are a great local asset and Littleton is lucky to have a wonderful one right here in town (in addition to other farmer's markets all over the local area). The Littleton Farmer's Market is impressive.  It is now in its 20th season – far longer running than most Farmer's Markets I am familiar with – and has 43 different vendors this year.  They are located in a great spot just over the covered bridge that runs behind Main Street, and are open on Sundays from June through October between 10 am and 1 pm.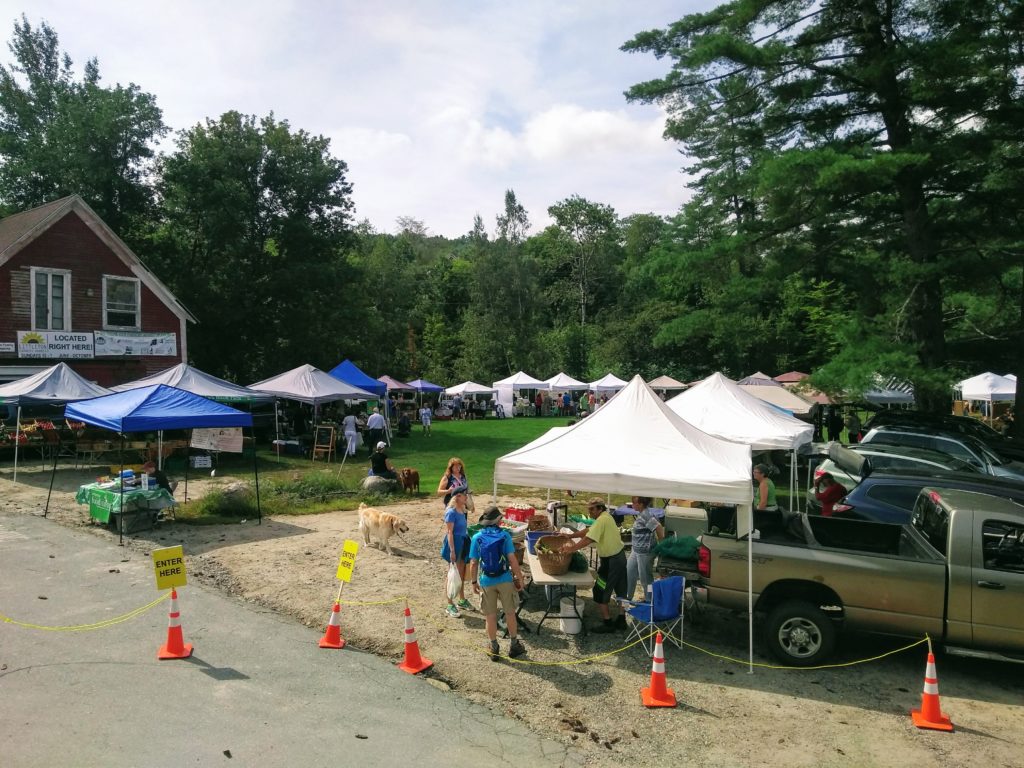 Living in DC when Ryan was little, one of my favorite things to do with him on Wednesday afternoons was to walk down to the park and browse the Farmer's Market. I didn't have much money at that time, but it was always fun to let Ryan pick out some type of treat – usually strawberries or blueberries to take home. There was something about buying the berries fresh from the Farmer's Market that just made them taste better. There were markets all over the DC area, and that was something that I really missed when I moved away. When considering moving to Littleton, I was excited that not only was there an active farmer's market, but that it was something that I could walk to. Taking a Sunday morning walk with the kids in order to check out the Farmer's Market feels so much more relaxing than driving for me.
One of the big draws to the North Country for Cal and I was that it is an area that really seems to embrace business. Everywhere you look in Littleton, it seems like everyday people are starting and expanding their businesses. It makes the area feel healthy and vibrant. It feels so great to be able to support locally owned businesses too! The Littleton Farmer's Market really embodies that attitude. The vendors are not just local farmers (although they are there too!), but a wide variety of people using the Farmer's Market as a way to run their business without the expenses of maintaining a storefront.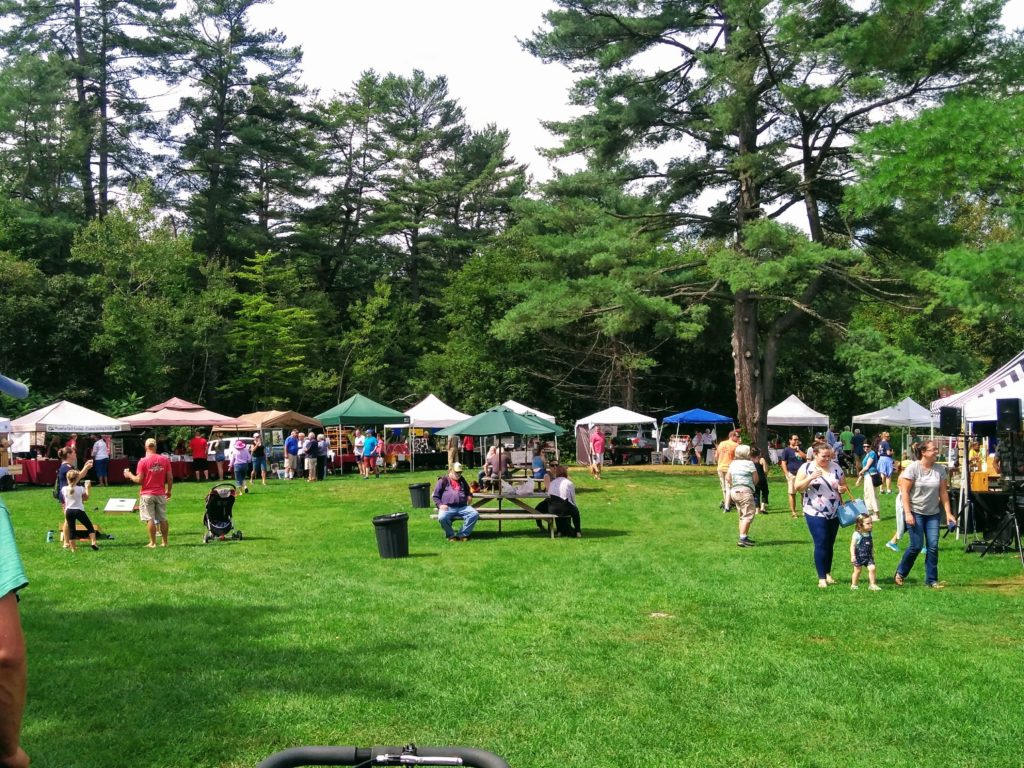 Everyone that I talk to in Littleton seems to know how great the Farmer's Market is and how lucky we are to have it here.  Not only is there a wide selection of locally grown and raised produce and meats, there are also bakeries and even a Thai family eatery.  There are a lot of products from local artisans  – everything from handsewn items, handspun yarn and knitted goods, to custom woodworking.  A local author even sells her books at the Market.  You can find a list of local vendors here.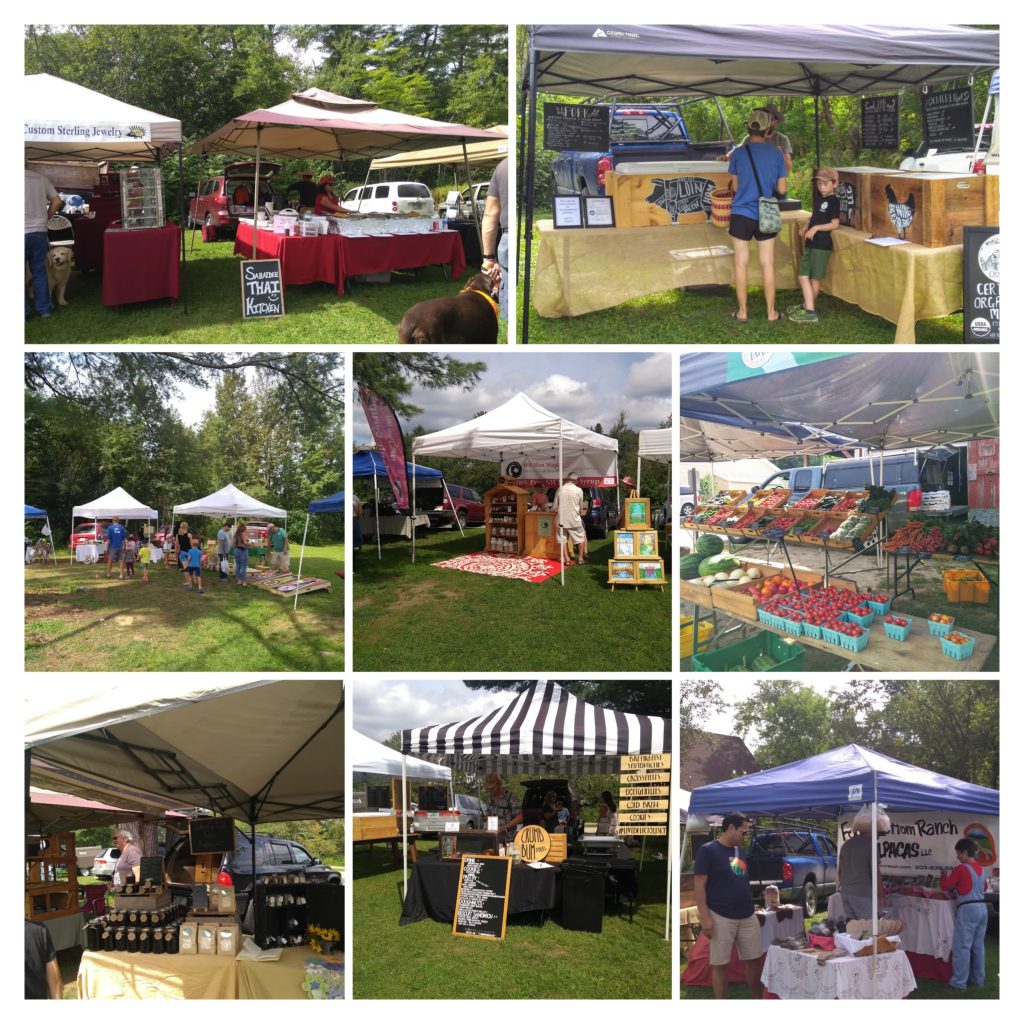 Payment at the Farmer's Market is surprisingly flexible.  They accept EBT and SNAP, as well as NH Market Match – for those using those programs.  They also accept credit/debit cards.  You just pay at the Farmer's Market table and receive tokens that the individual vendors can accept and redeem for money.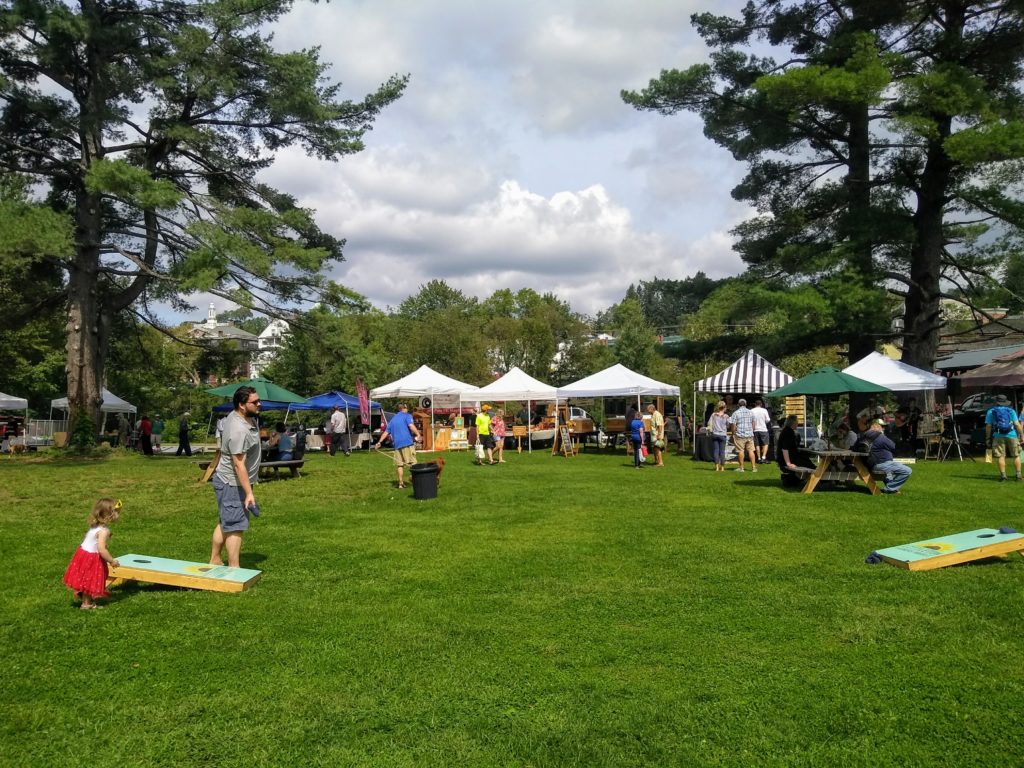 Walking around the Farmer's Market doesn't even have to be about buying anything.  There is live music each week, tables to sit at and enjoy the music (and any treats you might buy), and even a cornhole game set up in the middle of the field.  The Market seems to be a popular place to bring dogs, and Saoirse always gets excited spotting the different dogs when we go.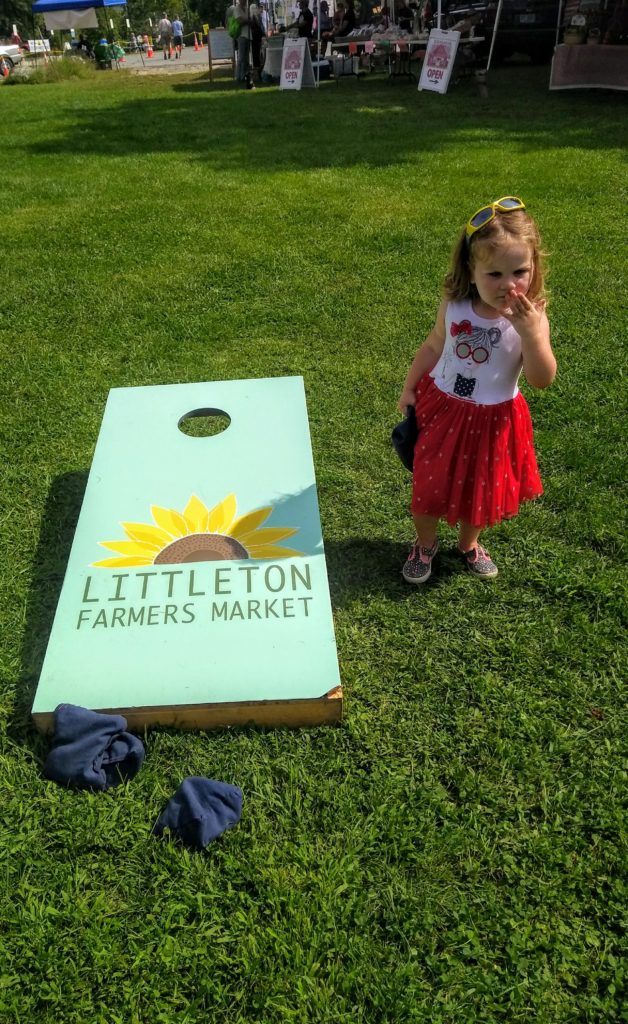 Ryan's favorite part of every Sunday trip is to stop by the table for Yeoman Brewing Company.  They have a variety of teas, cold brew coffee, chaga, kombucha and lemonade.  They offer free samples, and after Ryan's first taste of their lemonade, he was hooked.  We bought him a small cup, but that was not good enough for him.  So now, he raids his piggy bank each Sunday to buy himself the largest jar of lemonade they sell – the "generous man" size.  I have also heard especially great things about their new Rose Lavender Lemonade and am looking forward to trying it for myself.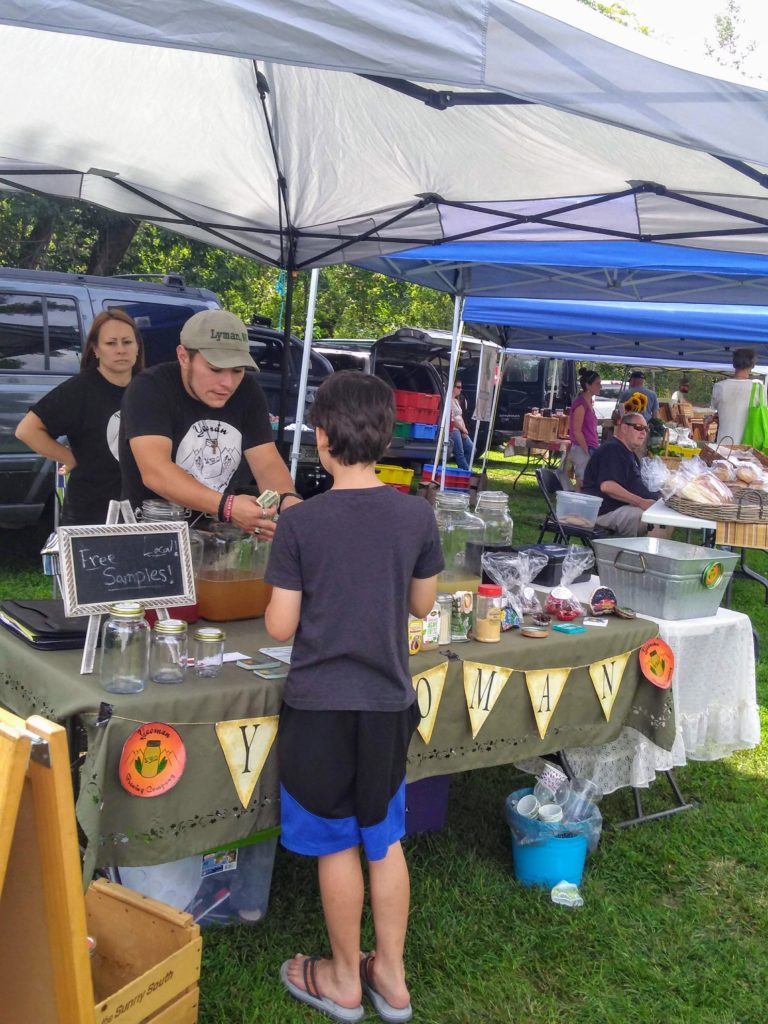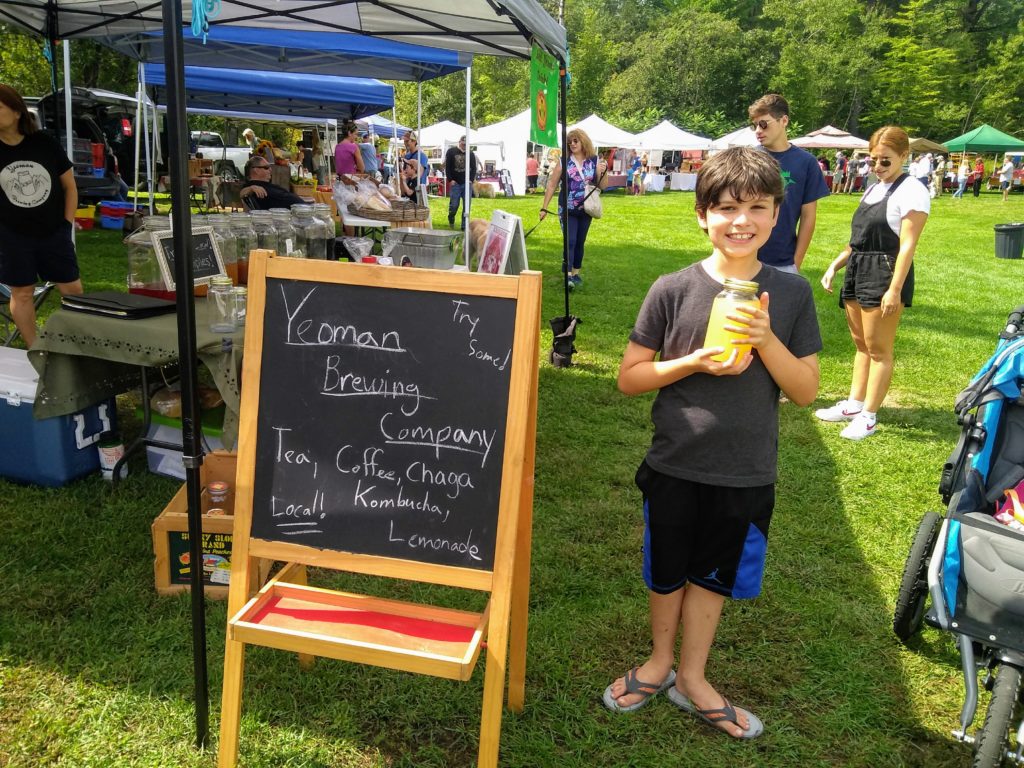 Overall, the Littleton Farmer's Market is a fantastic way to spend a low-key Sunday. We love walking there with the kids and wandering around, then stopping by Harmony Park and the Remich Park Playground for the kids to play some more.
You can check out the Farmer's Market in person every Sunday (June through October) from 10 to 1.  You can also check out their website and their Facebook page.
Note: I shared this post to a blog link-up called Our World Tuesday. If you want to see posts from other bloggers about their areas, go check it out here!