When we talked about costumes for the kids, Saoirse really wanted to be Daniel Tiger, but also wanted to feel like a princess. So the natural solution was to make her a Daniel Tiger tutu. I had thought about making her pants with tiger stripes, but the tutu alone is perfect for giving her tiger stripes on her legs.
I looked around online and found a lot of different ways to make tutus. I ultimately decided to follow the simplest tutu instructions because that also seemed like the tutu design most likely to grow with her longest. I found a great tutorial online at DIY Network. 
I picked up some non-roll elastic at Walmart and ordered two 25 yard rolls of tulle from Amazon (one yellow and one orange).
The only sewing required for this tutu was to sew the ends of the elastic together, something I could easily have done by hand if I didn't have my sewing machine. I was initially skeptical of the length of elastic recommended (her waist size minus 4 inches) because it looked way to small, but the end result fits her perfectly
Once I sewed the elastic into a circle,  I needed to cut the strips of tulle. I started with the orange tulle to make a Tiger like base. I cut the entire roll into 22 inch strips. After the first handful of measuring precisely, I just started estimating length to save time.
I then took each individual strip and made a loop coming under the elastic band, then pulled the ends around the waistband and through the loop to make a knot.
I continued doing this until the entire waistband was covered by orange tulle. 25 yards of tulle was perfect to cover a band cut for Saoirse's waist size.
Once I finished with the orange tulle, I cut strips of the yellow tulle. I did not want the yellow tulle to completely cover the orange because I wanted to give the appearance of tiger stripes, so I only used about half of the yellow roll.
The tutorial I followed said to tie the top layer tulle between each initial tulle knot, but in order to give a stripier appearance, I skipped every other space.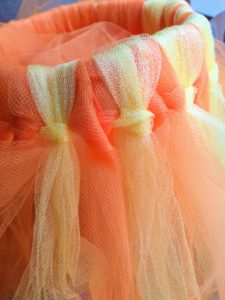 The end result was a perfect Daniel Tiger tutu for our needs.