Music in the Glad Town – Tour Guide Tuesday
Littleton, NH prides itself on being "the Glad Town".  It is the birthplace of the author of Pollyanna, and the town has really embraced the Pollyanna attitude.  One of the many ways this can be seen around town is through music.  The first time I ever visited Littleton, we didn't really explore Main Street, but we did go into Chutter's (the candy store with the World's Longest Candy Counter).  On the way out of the store, I noticed a piano painted with vibrant colors and patterns.  I wasn't sure if it was parked there by a street musician or if it was owned by the store.  I never even realized there might be more of them.
That piano was part of Littleton's Piano Project.  Pianos donated by the community and painted by local artists line Littleton's quaint Main Street.  Each piano looks a little different, but each fulfills the mission of encouraging people to "Be Glad. Make Music."More often than not, while walking down Main Street, you can see different people stopping and playing these pianos.  Sometimes it is groups of friends standing around the pianos singing together, sometimes kids and families stopping the try their hand at the inviting pianos.  Sometimes it is more accomplished musicians playing music for the town, with a tip jar resting on the piano.  No matter who is playing, everyone always seems to be full of smiles around these pianos.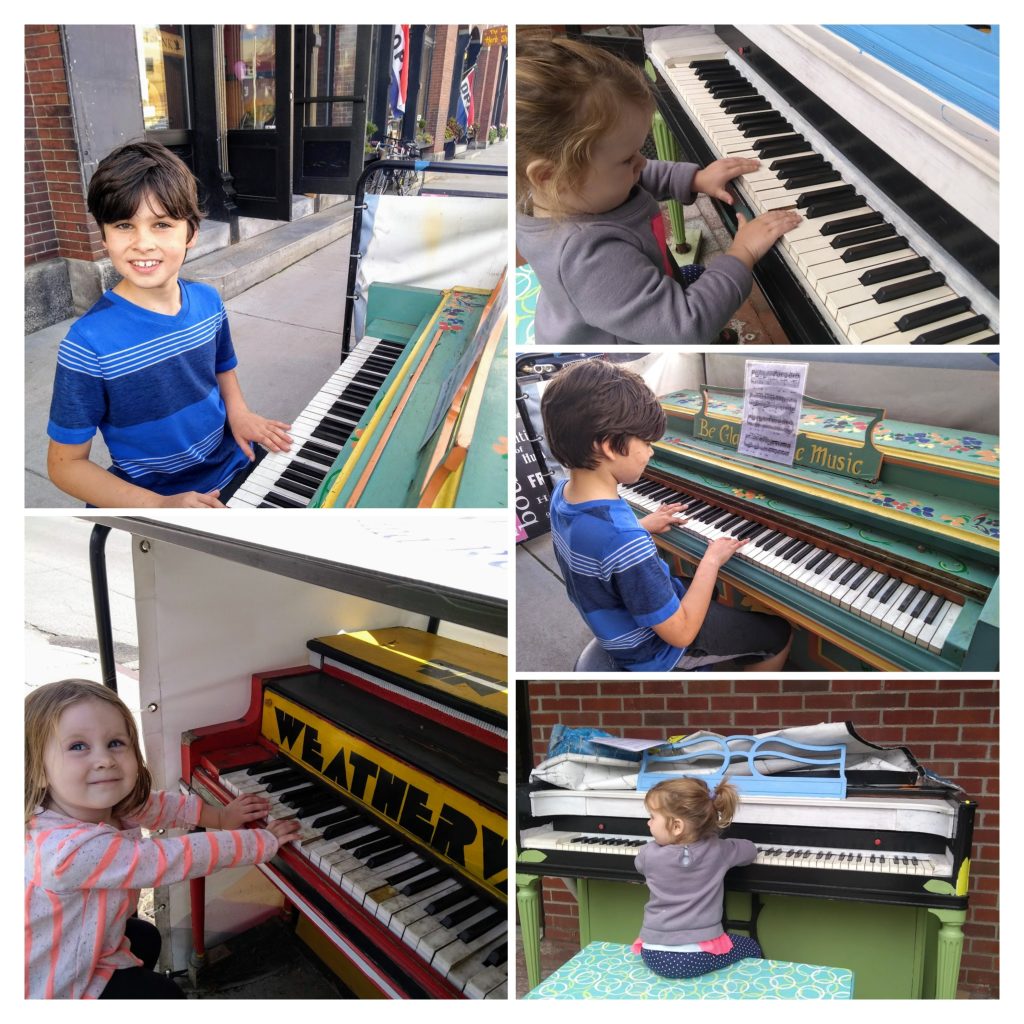 Ryan loves those pianos.  Every time we are on Main Street he has to go find a piano to sit at and play music.  Saoirse loves them too, and it is a surefire way to cheer her up and distract her from any complaints.  Ryan takes it more seriously though, he doesn't just want to play with the pianos, he wants to play music.  The last time we were on Main Street, he had two different people stop to compliment him on his playing and ask if he took lessons.  Now of course, he really wants to take lessons.  Piano lessons are probably a good fit for my kid who listens to classical music every chance he gets (he said he wants violin as his backup, but piano is probably a better starting instrument for him).
Littleton doesn't just spread the spirit of "Be Glad. Make Music." with pianos either.  We also have Harmony Park along the Ammonoosuc River behind Main Street.  Harmony Park is a collection of outdoor musical sculptures that opened in Littleton in 2015. Every kid I've met has loved going down by the river to play music on these instruments.  Plenty of adults too! There are six different instrumental sculptures where kids can play drums, chimes and xylophones.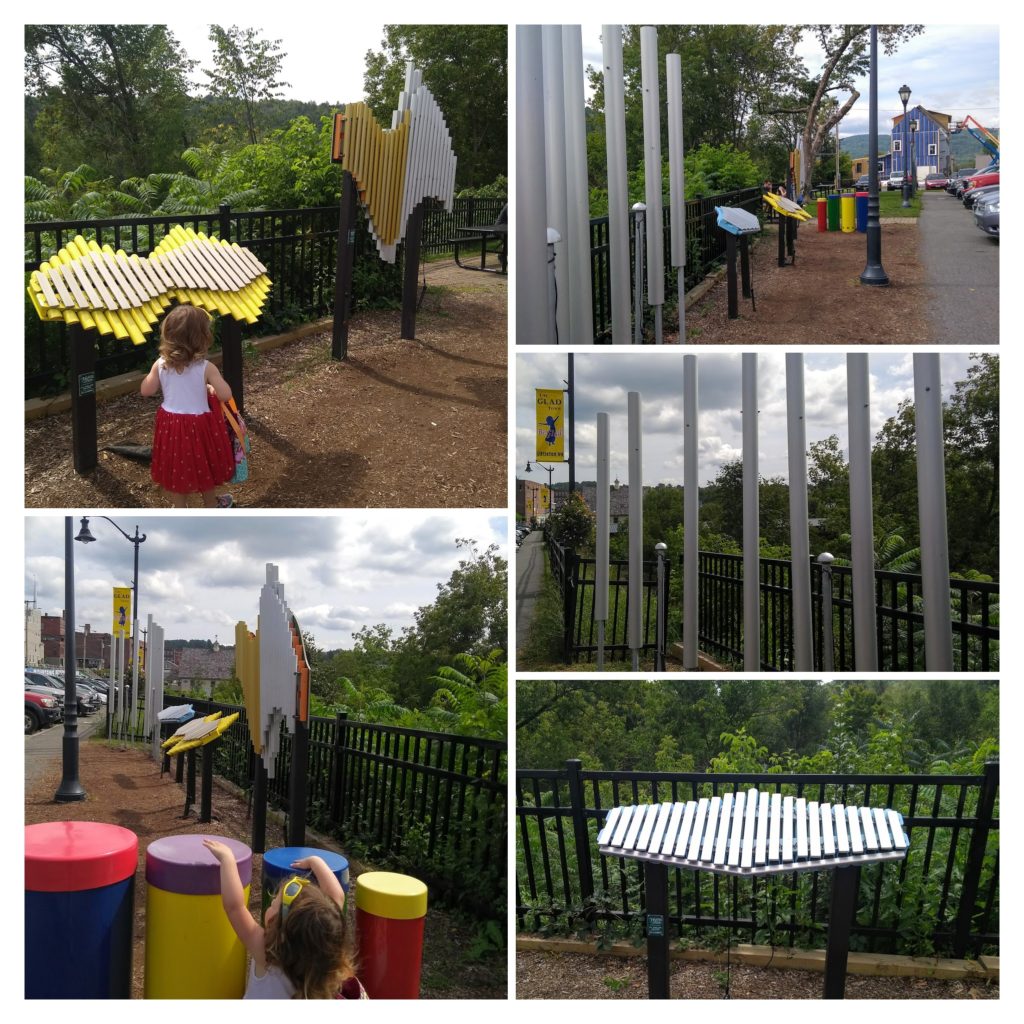 For more information about both the pianos and Harmony Park, check out Chutters' blog here.
That is not all for music in Littleton.  We also have a great music store – Northern Lights Music, with the region's greatest selection of high quality instruments.  For performances we have The Loading Dock (a volunteer run, flexible performace space) and the Littleton Opera House.  Music is everywhere here in the Glad Town!
Note: I shared this post to a blog link-up called Our World Tuesday. If you want to see posts from other bloggers about their areas, go check it out here!