Return from the Emerald Isle – Trip Recap
We are back home from Ireland.  It was a whirlwind trip and we are all completely exhausted, but I am so glad that I had a chance to do it all.  We spent two nights on the Aran Islands, one night in Galway and one night in Dublin.  It wasn't nearly enough time and I can't wait to go back and explore more, but it was a great trip all the same.
The whole trip was very go-go-go from the start.  We picked Ryan up early from school at 1pm and headed straight to Boston, where we picked up my sister and went to the airport.  We had a 5:50pm flight and arrived in Ireland at 4:50am (6 hour flight and 5 hour time change).  As soon as we landed, we collected our baggage and headed out to catch a bus.  The bus took us to Galway, we arrived shortly after 9am.  We then ran to get our ferry tickets an catch a 9:30 bus to our ferry.  We barely made the bus, we arrived just as the bus was loading and were the last passengers on the bus.  A one hour bus ride took us to our ferry, and we finally arrived on the Aran Islands around 11am.  We checked into our accommodations and started getting ready for our wedding.  Our wedding officiant picked us up for the wedding at 3:30pm.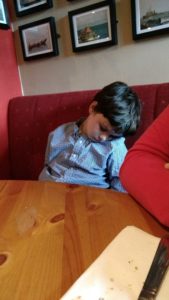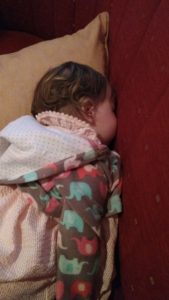 Once we were over the rush of arriving, we had more of a chance to relax and explore the island.  It was an amazing place (I think the Aran Islands deserves its own post, coming soon).  I took a million pictures, but no matter how many I took, I felt like I couldn't capture the amazingness in front of my eyes.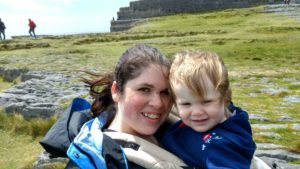 After our amazing time on Inis Mor, we headed back to Galway on Friday.  In Galway, we met up with family for lunch and just enjoyed walking around soaking it all in.  Our hotel was right on Eyre Square, so it was an easy launching point for exploring.  Once it was the kid's bedtime, we left them at the hotel with my sister and Cal and I headed out to explore on our own (something we never get to do even at home).  We walked around and found a great little ice cream shop with creative flavors.  The staff was very helpful with new samples and brought us several before we even had a chance to look at the menu (I tasted their brown bread, caramel, sea salt, and two different types of chocolate).  They also had garlic flavor, Irish coffee made with real whiskey, and gin flavor. I ordered one scoop of malted chocolate and one scoop of sea salt, Cal ordered the gin.
While we ate our ice cream, we watched street performers, and then later stopped by the Dew Drop Inn Pub so Cal could grab a pint.  We didn't do any exciting sightseeing in Galway, but I enjoyed wandering the city and taking it all in.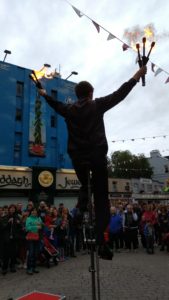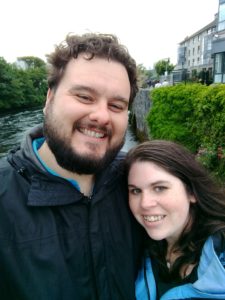 The next day, we took the train to Dublin.  Our hotel was a lot further from the city center this time, but fortunately there was a bus right outside that took us right to the Quays.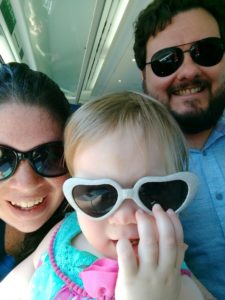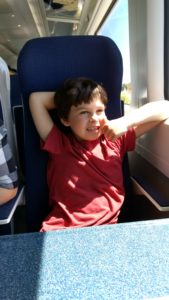 One thing I was surprised by in Dublin was how early everything closed.  I expected everything to be open later since we were in a major city, but things closed even earlier than in rural New Hampshire.  We arrived in the city center by about 7:30 pm on Saturday (leaving the kids at the hotel again, thank goodness for my sister) and all of the stores were closed.  The only thing we saw open was pubs and some eating establishments and apparently even those are all closed by 11:30.  I was a little disappointed because I was really hoping to explore some bookstores (I am a total book nerd), but I still had a really great time walking around with Cal.  I will say, even with so much closed, there were tons of people walking around everywhere.  We had some ice cream, and then once again stopped into a nice little pub.  We arrived at just the right time, before it was too crowded and were able to stake out a great seat.  Later it was much louder and more crowded, but I was still able to enjoy it because we were already settled.
The next day in Dublin we split up from my sister and Ryan, to explore the sights.  She took Ryan to Dublinia, an interactive museum about Vikings and Medieval Ireland.  He absolutely loved it and it was the highlight of the trip for him.  Saoirse wasn't feeling well, so Cal wore her in our baby carrier, but she slept most of the time anyway.  We waited in a fairly long line to see the Book of Kells at Trinity College.  It was packed, and you can only see one page, but I'm glad we had the opportunity to see it.  The highlight for me though was the Long Library area after we saw the Book of Kells.  It was amazing.  We were also able to see an original copy of the 1916 proclamation and the oldest remaining Boru Harp.  Really great sightseeing for me and Cal, but I'm glad Ryan was off doing something more kid friendly.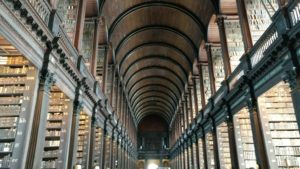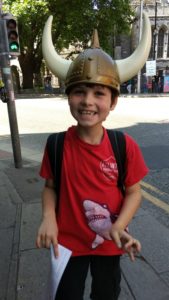 Then we all met up and went to Dublin Castle before getting some fish and chips and then heading to the airport.
With the brevity of the trip and all the constant travel, I feel like we didn't get to fully enjoy it in the moment.  I will also say, I don't plan to do any overseas travel with children again in the near future.  Looking back though, I am so so glad to have had the experience and it was really wonderful.
*More posts to come about the Aran Islands, our wedding, and traveling with kids.