My Awesome Bookworm Beachfront Proposal
On March  18th, Cal suggested an impromptu trip to the beach.  It is still very cold in New Hampshire in March, but it was nice to go to the ocean.  Ryan collected seashells, while Saoirse and I watched the waves crashing on the shore and enjoyed the fresh ocean air.
The beach was surprisingly busy.  A lot of people had the same idea to go enjoy a cold but sunny day by the ocean.  Even without any other plans, it was a great family day.  Cal had bigger plans though.
While we were alone on our stretch of beach, Cal told me he had a gift for me.  He handed me a beautiful, handmade journal.  He told me to look inside, so I opened it up and found the words, "The story of my life is incomplete without you. I promise you love, loyalty, friendship. Will you marry me?"
While I was reading this, Cal got down on one knee and held out a beautiful claddagh ring.  My ring is a beautiful silver band with the traditional claddagh heart, hands and crown engraved into it.  It also includes the Irish words for Love, Loyalty and Friendship (which is what the claddagh ring represents).  Cal now has a matching band for his wedding band as well.
I of course said yes and we spent a little more time hanging out at the beach.  Then we went to celebrate by getting ice cream and then going to the bookstore to spend time looking at books.
We had been talking about getting married for a while.  We even had an appointment to get married at City Hall on New Year's Eve when I was pregnant with Saoirse.  We ultimately decided to cancel that appointment because I had so much stress going on with my thesis and my pregnancy, that I wasn't in the right headspace to fully take in and enjoy getting married.  Cal also made it known that he really wanted to propose to me in a special and meaningful way.
It took a really long time for him to propose.  Another 15 months after we cancelled the City Hall marriage.  Still, I am so glad that we had this beautiful proposal experience. I also didn't mind the wait, because we are finally at a point in our relationship where I have complete and total confidence in our relationship and our ability to work through anything that comes our way.
This proposal was such a perfect reflection of how well Cal knows me.  The beach and the ocean, a beautiful new journal, a claddagh ring, and a trip to get ice cream and the bookstore.  It was all so completely perfect for me.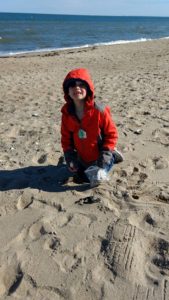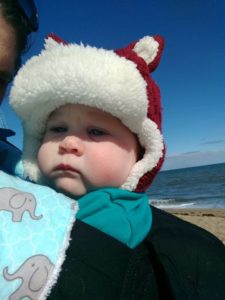 Now we are less than two weeks away from our wedding on the Aran Islands in Ireland and I could not be happier.  We talked a lot about having a small ceremony and what we wanted to do.  Ultimately, I have always dreamed about eloping on a cliff in Ireland.  Years ago, I had read about a Celtic monk named Dara Molloy who performed traditional pagan Irish wedding ceremonies on the Aran Islands.  It all seemed so beautiful and meaningful, while also connecting with my Irish roots.  So we looked into flights to Ireland and booked the cheapest one we could find.  It will be just me, Cal, Ryan, Saoirse and my sister (who will be watching the kids and taking some pictures for us).  I would love to be able to have more of our family and friends there with us, but it was not financially possible and I still wanted the incredibly beautiful and meaningful ceremony on the Aran Islands.
It is not a true elopement since we are bringing my sister and our kids, but I wouldn't have it any other way.  I felt like I could not get married without Ryan there with us.  We are going to be so exhausted.  We booked the cheap flight we found immediately, then reached out to Dara about scheduling.  His only two available days were the day we arrive in Ireland and the day we leave. So we will be arriving in Dublin around 5 am after spending all night on a plane and losing 7 hours to the time change.  We will then get breakfast and get on a train across the country to Dublin.  We are catching the 1 pm ferry in Galway and should be on Inis Mor by 2 pm.  We then have to check into our apartment rental, get ready and make it to our wedding site at 4 pm.  We are getting married at 4 pm on June 14th, 2017!
It is going to be incredibly busy and exhausting, but I am sure it is going to be an amazing adventure!