Someone Missing, Someone New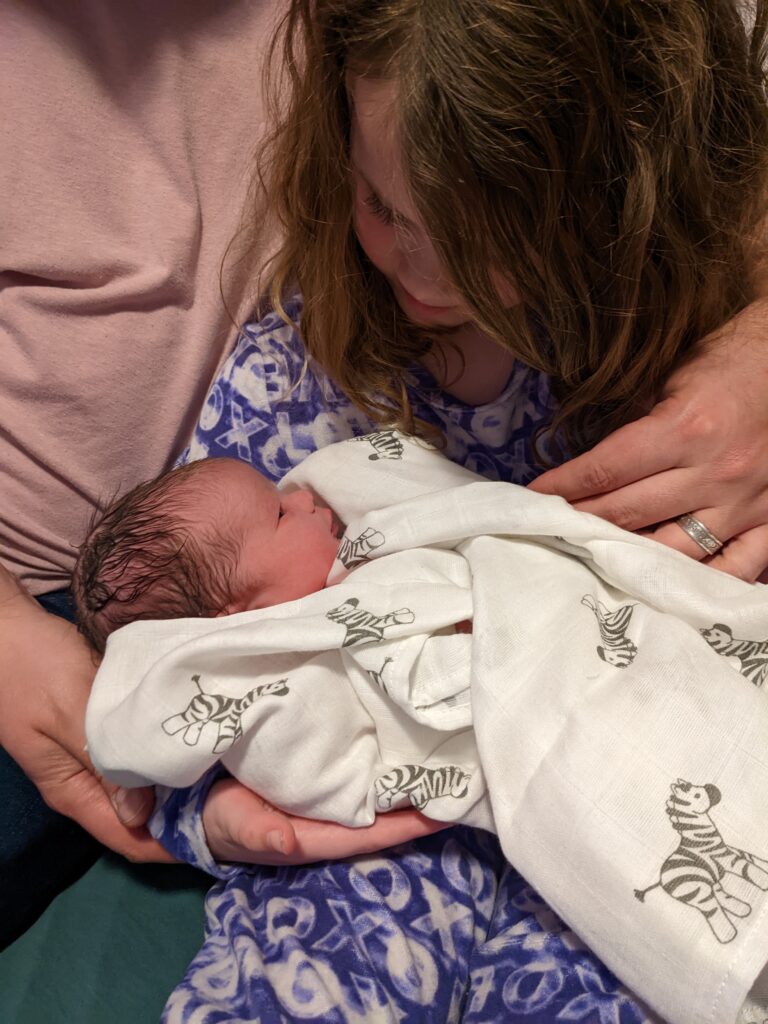 We welcomed Cara Colleen into the world on a beautiful afternoon in December.
It was bittersweet welcoming a new baby without my mom here to share in the joy. When I had Connor, I was young and scared, but my mom was there for me through it all holding my hand. When I had Fiona, I was living in New Hampshire and Calvin, Connor and I had settled into me re stable family life. I was no longer living at home and needing my mom to drive me to the hospital and hold my hand. Calvin was the one holding my hand, but my mom was the person whose phone I called a dozen times in the middle of the night in order to wake her up and tell her that my water broke. She was the one I called a few hours later when my contractions started a few hours later and when we packed our bags and headed to the Birth Center. She was the person I could manage text updates to between contractions and the first person we told when Fiona had arrived. I may not have needed her physically next to me for that birth, but emotionally she was still there every step of the way.
Throughout my pregnancy, I spent a lot of time mourning everything that my mom would miss and the moments that I wouldn't get to share with her. I am forever grateful that I still was able to call my mom and tell her i was pregnant. The first time I ever called my mom to tell her about a pregnancy, I was 19 and in college. Although my mom loved and cherished Connor with every fiber of her being, that first phone call was not a happy one. Seven years later, I was so afraid to call her and tell her I was pregnant because although I was in a much better place in my life, Calvin and I weren't married and I was afraid my mom would be angry or disappointed – but instead I was greeted with such warmth and excitement when I worked up the nerve to call my mom and tell her.
This pregnancy was the one that I couldn't wait to share with her. After five years of infertility, my mom was the person who I vented and cried to with every chemical pregnancy, every doctor's appointment, test, procedure, and round of medication that never seemed to work. I had just about given up hope of having a third child and was a week away from a second fertility clinic consult that I didn't have much hope for. After waiting a week to make sure that the test lines were nice and dark, and getting darker, I was so excited to call my mom and tell her. She was so excited and happy for me and I am so glad that I was able to share that moment with her. My mom never got to meet this baby, feel her kick, or see me hugely pregnant. The last time I saw my mom outside of a hospital, she told me how great I looked now that I was really starting to show, and she was so happy for me. I did get to tell her when we found out that Cara was a girl, and when we decided that her name would be Cara. I wouldn't trade those moments of sharing for the world, but I will always wish that I had more.
Despite the sadness and absence of my mom, welcoming Cara into the world was a beautiful thing. Cara entered the world in a pool of water and surrounded by love. Calvin was there holding my hand and encouraging me through it all, and Fiona was right beside him offering support and her squishmallows to squeeze through contractions.
Cara was born healthy and happy, and full of good luck signs. My water never broke when I was in labor and Cara was born en caul (still in her amniotic sac), a sign of good luck across many cultures and societies. She was also born with an "angel kiss" birthmark on her eyelid that I choose to believe was a sign from my mom, and the numbers of her birthdate seem lucky to me.
Cara was my light at the end of a very sad year. She is sweet and wonderful and we love her beyond belief. I would give anything for my mom to be able to hold her and dote on her like I know that she would. For now, I will have to settle for an angel kiss and a hope that my mom is somewhere watching over us with love.