Fourth of July Festivities – Littleton, NH
Last week was a busy week for us between fireworks, friendly potlucks and a town-wide block party.  It was a great first Fourth of July experience in our new hometown of Littleton.  The small town we were renting in previously was a very isolating experience for us, our experience thus far in Littleton has been the complete opposite of that and I have loved exploring and getting to know the town and area better.
On the 3rd we had a potluck with new friends and then rushed home in order to see the Littleton Fireworks show.  We were having such a great time with friends, that we ran later than expected and didn't get home until the middle of the town firework show.  We were lucky enough to have an amazing view of the show right from our deck because the town was setting them off right down the street from us.  As we drove by the crowds of people crowding in the park and still trying to find parking, I was really appreciative that we were able to enjoy the show from the comfort of our own deck.
It was easily my favorite fireworks experience yet, and the kids loved the show even though we only caught the tail end of it.  Saoirse ran around for several days afterwards yelling "boom boom boom" and asking to go see more fireworks.  Poor Rusty on the other hand was terrified and I did have to spend a lot of time reassuring him that everything was okay for the next few nights.
Our neighbors had invited us to come join them and other neighbors for a viewing party on their deck.  I was really excited to go and socialize with and meet new neighbors, but since we got home so late, we didn't make it.  Cal and Ryan did stop over and say hello to everyone as soon as the fireworks ended.  Saoirse and I stayed home to reassure Rusty who was still terrified at that point.  Overall, aside from Rusty, it was an amazing experience for all of us.
On the Fourth, we were excited to go check out the Remich Park Block Party – a town wide celebration that was happening at the park right down the street from our house.  There was live music, food trucks, crafts and games.  Ryan even got his haircut right at the event (haircuts are usually very stressful for him, so we hadn't found a new place to take him that we thought would work well – now we have)!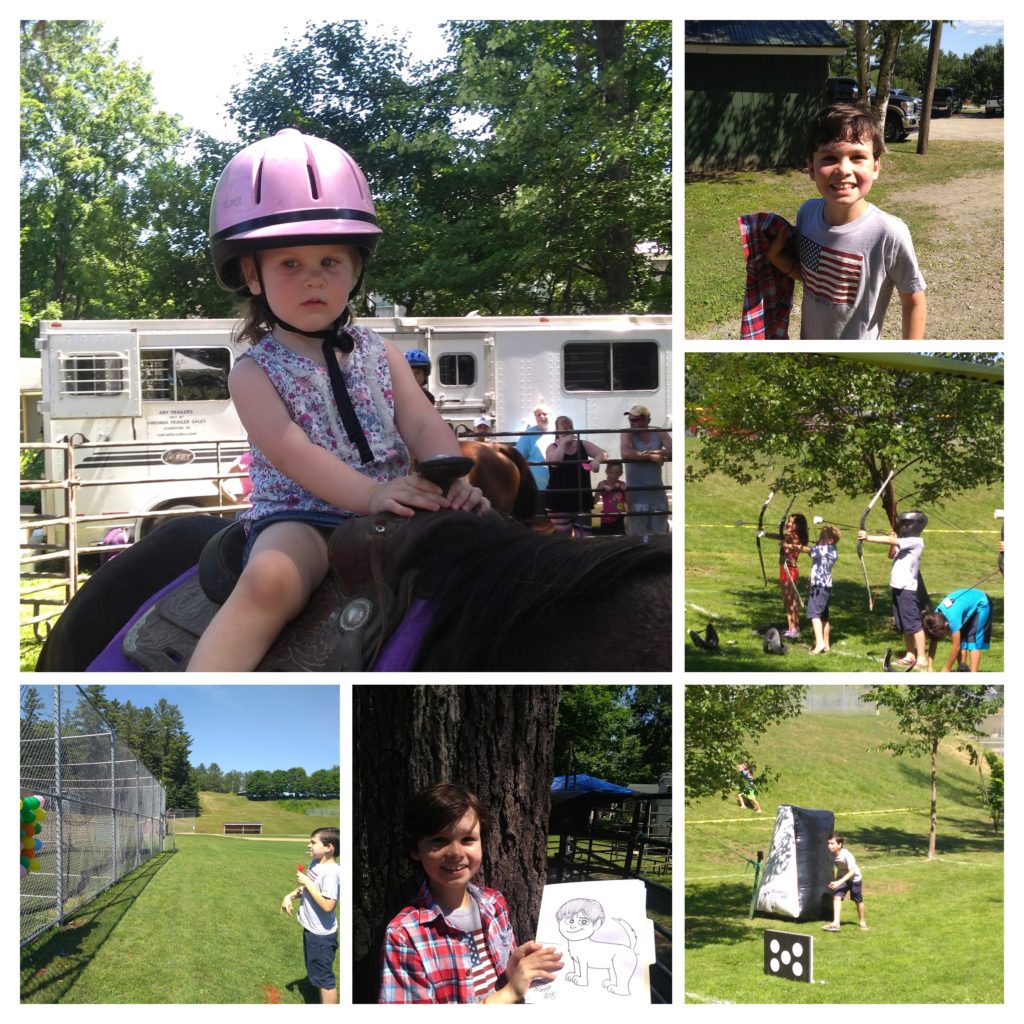 It was a really great time overall.  Ryan especially had a blast.  He was really proud of a caricature he had drawn of himself with a dog body.  He also played archery tag, which was an exciting new activity for him to discover, and won himself and his sister prizes with a balloon popping dart game.  Saoirse had a great time playing with bubbles and exploring.  She begged to ride a horse after seeing her brother do it, but once she was up there she seemed a lot less certain.
Moving to Littleton has been an amazing experience for my family and I am so glad to be a part of this community now!